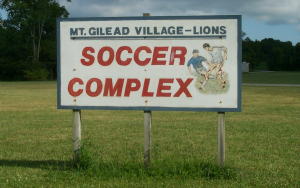 Our Mission
The purpose of the Mt. Gilead Soccer League is to provide fun and recreation for the children and to encourage teamwork, good sportsmanship, and to build self-esteem.

***************************************************************************************
Registration costs for the 2013 Fall season are as follows:
$30.00 per child if registered by July 1st.
late registrations are $15 extra per child
In Person Registration Dates:
Thursday June 20th 6PM to 8PM
Saturday June 22nd 9AM to 11AM
Saturday Jun 29th from 9AM to 11M
In person registration location:
at the Soccer complex in Mt. Gilead (US Highway 42 on the north east side of Mt. Gilead) You must have a copy of the child's birth certificate for new players signing up.
Mail in Registration: Registrations may be mailed in. Mailed in registrations must be Postmarked by Monday July 1st and must be complete all forms filled out, payment included, and a copy of the child's birth certificate.
ALL registration packets must be completed in full including a copy of the child's birth certificate. and must be postmarked by July 1st! Be sure you have the post office postmark your envelope if necessary. Envelopes with no postmark or postmarked July 2nd or later will be accepted, however a $15 late fee will apply and must be included
with your registration. Registrations received after July 15th
are not guaranteed a spot on a team.
Download registration packet:
The registration packet will be available for download soon.
No Online Registrations:
Please note, there will not be online registrations this year.
Notation concerning the 14-17 age group:
This is our 2nd year fielding the older age group,
we will play that age group if we have enough people to field no less than 4 teams;
you will be notified after registration is complete what the final #ís are
and your money will be refunded if we are unable to field that many teams.
***************************************************************************************
Thank you and have a GREAT season!!


Reminders:

By order of the Village of Mt. Gilead, the is no smoking allowed anywhere at the soccer complex.
In order to keep the soccer field and parking areas in good condition, we request you obey all signage and blocked off areas. This will allow us to continue to keep our fees low and to provide this league for years to come. The less upkeep we have for the fields and surrounding area, the better off the league is!
Thank you for your cooperation on all these matters in advance.

Contact Information
Postal address:

P.O. Box 437 Mt. Gilead, OH 43338

Electronic mail:

General Information: mgsl@redbird.net